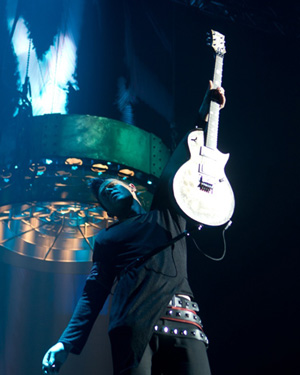 Artist Spotlight: Rammstein
"Life is better with the BAE 1032 - in the studio and on stage."
-Richard Kruspe
Rammstein is a Neue Deutsche Härte/industrial metal band formed in Germany in 1993. Initiated by former 'Orgasm Death Gimmick' guitarist Richard Kruspe along with guitarist Paul Landers, keyboardist Christian Flake Lorenz (the two both ex-Feeling B), drummer Christoph Schneider, bassist Oliver Riedel and ex-champion swimmer Till Lindemann at vocals.
The majority of their songs are in German, but they have also performed songs entirely or partially in other languages including English, Spanish, French and Russian. As of 2014, they have sold over 10 million records worldwide.[4] Rammstein's award-winning live shows are renowned for their pyrotechnic elements and both on- and off-stage theatrics. Rammstein's entire catalogue is published by Universal Music Group.
Their first song, "Rammstein", was about a crash incident during a airshow. They keep the name and were signed by label Motor in Germany...
Read More
BAE are manufactures of high end microphone preamp/equalizers faithful to vintage designs of the seventies and before. With a penchant for high quality transformers like Carnhill (St lves) and Jensen, everything is as close to the vintage philosophy as possible. Not only that but we insist everything is hand-wired/soldered using discreet electronics and not economized on a circuit board.