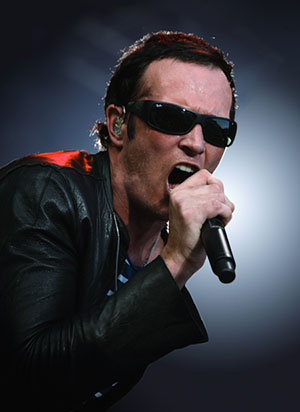 Artist Spotlight: Scott Weiland
"BAE just seems to really capture the tonality of my voice in a really perfect way..."
-Scott Weiland
Scott Weiland is an American musician, lyricist and vocalist. During a career spanning three decades, Weiland is best known as the former frontman for the successful rock band Stone Temple Pilots, as well as the supergroup Velvet Revolver from 2003 to 2008. He has also established himself as a solo artist, releasing three studio albums, a cover album, and collaborations with several other musicians since 1995.
Weiland's onstage persona is known as being flamboyant and chaotic; he is also known for constantly changing his appearance and vocal style, as well as his use of a megaphone in concert for vocal effect. Widely viewed as a talented and versatile vocalist, Weiland has been ranked in the Top 100 Heavy Metal Vocalists by Hit Parader.
Weiland's vocal and musical style has proved to be versatile, evolving constantly throughout his career. At the peak of Stone Temple Pilots' success in the early to mid-1990s...
Read More
BAE are manufactures of high end microphone preamp/equalizers faithful to vintage designs of the seventies and before. With a penchant for high quality transformers like Carnhill (St lves) and Jensen, everything is as close to the vintage philosophy as possible. Not only that but we insist everything is hand-wired/soldered using discreet electronics and not economized on a circuit board.